Nail plug ND – DAILY-NAILY
The KTS Nail anchor / Impact anchor is ideal for quick and safe installation in concrete and solid stone. A galvanized nail screw with countersunk head is pre-assembled in our anchor. Our anchors offer one collar each for countersunk head as well as cylinder head screws. Thus, the nail screw can be wonderfully countersunk plan in any case. The dowel itself consists made of high quality and strong polyamide (nylon). Therefore, it can be easily hammered directly into the drill hole with the pre-mounted screw.
RANGE OF APPLICATION:
Concrete
Solid stones
Hollow blocks
Aerated concrete
The right nail plug for every project

Depending on the application, you have different lengths of the Stainless steel nail screw with countersunk head as well as the dowel available. For example, you can use a long-shaft dowel (made of nylon) with 160 mm. Each refined steel screw nail is galvanized zinc plated by us as pre-assembled. And thus provides extra durability and stability. The special feature of the nail plug is that if necessary, it can be loosened or readjusted without effort. To do this, you can simply loosen the screw nail a bit with a common screwdriver. You can get our nail dowels in our store in different pcs. Number and mm length, suitable for your projects.
What is the difference between a nail plug and an impact plug?
In fact, the only difference here is the name, because both nail anchor and impact anchor refer to one and the same type of anchor. Depending on the field of work, one or another name for this type of anchor is more common.
How exactly does a nail plug work?
A nail dowel works very simply. No special tool is required for a nail plug. You can actually hammer it in like a nail. However, drill a suitable hole in the wall in advance so that the impact dowel can be hammered in. When the dowel is hammered in, the end of the dowel expands and is thus clamped in the drilled hole. This gives the dowel enormous stability and you high security as well as load capacity.
When is an impact anchor used?
Impact anchors are ideal for your quick installation of roof battens, metal battens, frames and posts. They are particularly well suited for use with
Concrete
Solid brick
Hollow block
Aerated concrete
However, impact anchors are also ideal for through-hole installation and provide you with an excellent hold for any fastening.
Can impact dowels also be screwed?
Since the dowel is hammered into an existing drill hole, as already described, you can at least not screw it completely into the wall. But to make a final fine adjustment or even remove the screw from the dowel, you can screw the dowel. For this purpose, the screw nail has a countersunk head with cross recess, which you can easily use with a screwdriver.
Where else can a nail plug be used?
Nail anchors are also ideal for your drywall projects. Thus, impact anchors have proven to be extremely reliable, very resilient, especially in drywall construction, and receive much approval here. Especially when fastening wall panels or other wall claddings, our nail anchor ensures you fast and safe work. In addition, the nail anchor from KTS also withstands any weather, should you ever use it outdoors. This durability is due to the stainless steel nail screw, which was galvanized.
Tip for all DIYers
Our nail anchors are versatile. Thanks to the different sizes and Ø from 3.3 mm to 4.8 mm, you can also use the dowels to attach
Pictures
Lamps
Holding strips
Panels
Wall coverings
use Depending on the load of the dowel, one or two pcs. are already sufficient. out to ensure a high level of safety. This allows you to quick and safe attachment of many different things.
Conclusion about the nail plug
Our nail anchor offers you different application possibilities. And always ensures you a high load capacity as well as safety. Simply pre-drill a hole, hammer in the impact anchor and you have the right hold!
Safety note
However, when using nail anchors, please pay attention to the following:
a1) This information is to be regarded as a general recommendation. This information should be regarded as general recommendations. More specifically, please note that these plugs and anchors may not be used for work subject to building inspections (e.g. for securing façade substructures, roofs etc.).
a2) For this purpose, please expressly use our frame anchors, which also have the appropriate approval and certification.
Addition a2) Our facade anchors have a corresponding ETA approval
Technical data ND-S Nail plug with countersunk head
Small packaging
Article-No.
Packaging unit
Weight per packing unit
Screw nail Ø mm + length
5 x 30 mm
1330503041
200 / 2.000
4.6 kg.
3,3 x 31
5 x 40 mm
1330504041
200 / 2.000
6.0 kg.
3,3 x 41
5 x 50 mm
1330505041
200 / 2.000
7.2 kg.
3,3 x 51
6 x 40 mm
1330604041
200 / 2.000
7.2 kg.
3,85 x 41
6 x 50 mm
1330605041
200 / 2.000
10.0 kg.
3,85 x 51
6 x 60 mm
1330606041
200 / 2.000
11.0 kg.
3,85 x 61
6 x 80 mm
1330608041
100 / 1.000
7.2 kg.
3,85 x 81
8 x 60 mm
1330806041
100 / 1.000
8.9 kg.
4,85 x 61
8 x 80 mm
1330808041
100 / 1.000
11.6 kg.
4,85 x 81
8 x 100 mm
1330810041
100 / 1.000
14.8 kg.
4,85 x 101
8 x 120 mm
1330812041
100 / 500
9.0 kg.
4,85 x 121
8 x 140 mm
1330814041
100 / 500
10.0 kg.
4,85 x 141
8 x 160 mm
1330816041
100 / 500
12.0 kg.
4,85 x 161
Performance Data ND-Z Nail Dowel with Cylinder Head
Small packaging
Article-No.
Packaging unit
Weight per packing unit
Screw nail Ø mm + length
5 x 30 mm
3330503041
200 / 2.000
4.6 kg.
3,3 x 31
5 x 40 mm
3330504041
200 / 2.000
6.0 kg.
3,3 x 41
5 x 50 mm
3330505041
200 / 2.000
7.2 kg.
3,3 x 51
6 x 40 mm
3330604041
200 / 2.000
7.2 kg.
3,85 x 41
6 x 50 mm
3330605041
200 / 2.000
10.0 kg.
3,85 x 51
6 x 60 mm
3330606041
200 / 2.000
11.0 kg.
3,85 x 61
6 x 80 mm
3330608041
100 / 1.000
7.2 kg.
3,85 x 81
8 x 60 mm
3330806041
100 / 1.000
8.9 kg.
4,85 x 61
8 x 80 mm
3330808041
100 / 1.000
11.6 kg.
4,85 x 81
8 x 100 mm
3330810041
100 / 1.000
14.8 kg.
4,85 x 101
8 x 120 mm
3330812041
100 / 500
9.0 kg.
4,85 x 121
8 x 140 mm
3330814041
100 / 500
10.0 kg.
4,85 x 141
8 x 160 mm
3330816041
100 / 500
12.0 kg.
4,85 x 161
Werksprüfung ND – Nail plug with pre-mounted screw nail
Material: NYLON (polyamide 6)
Diameter mm
5
5
5
6
6
6
6
8
8
8
8
8
8
Length mm
30
40
50
40
50
60
80
60
80
100
120
140
160
Drill hole Ø mm
5
5
5
6
6
6
6
8
8
8
8
8
8
Minimum hole depth mm
40
50
60
50
60
70
90
70
90
110
130
140
170
Minimum anchorage depth mm
25
30
30
30
30
30
30
40
40
40
40
40
40
Maximum useful length mm
5
10
30
10
20
30
50
20
40
60
80
100
120
Concrete pull-out value (kN)*
0,30
0,40
0,40
0,60
0,60
0,60
0,60
1,00
1,00
1,00
1,00
1,00
1,00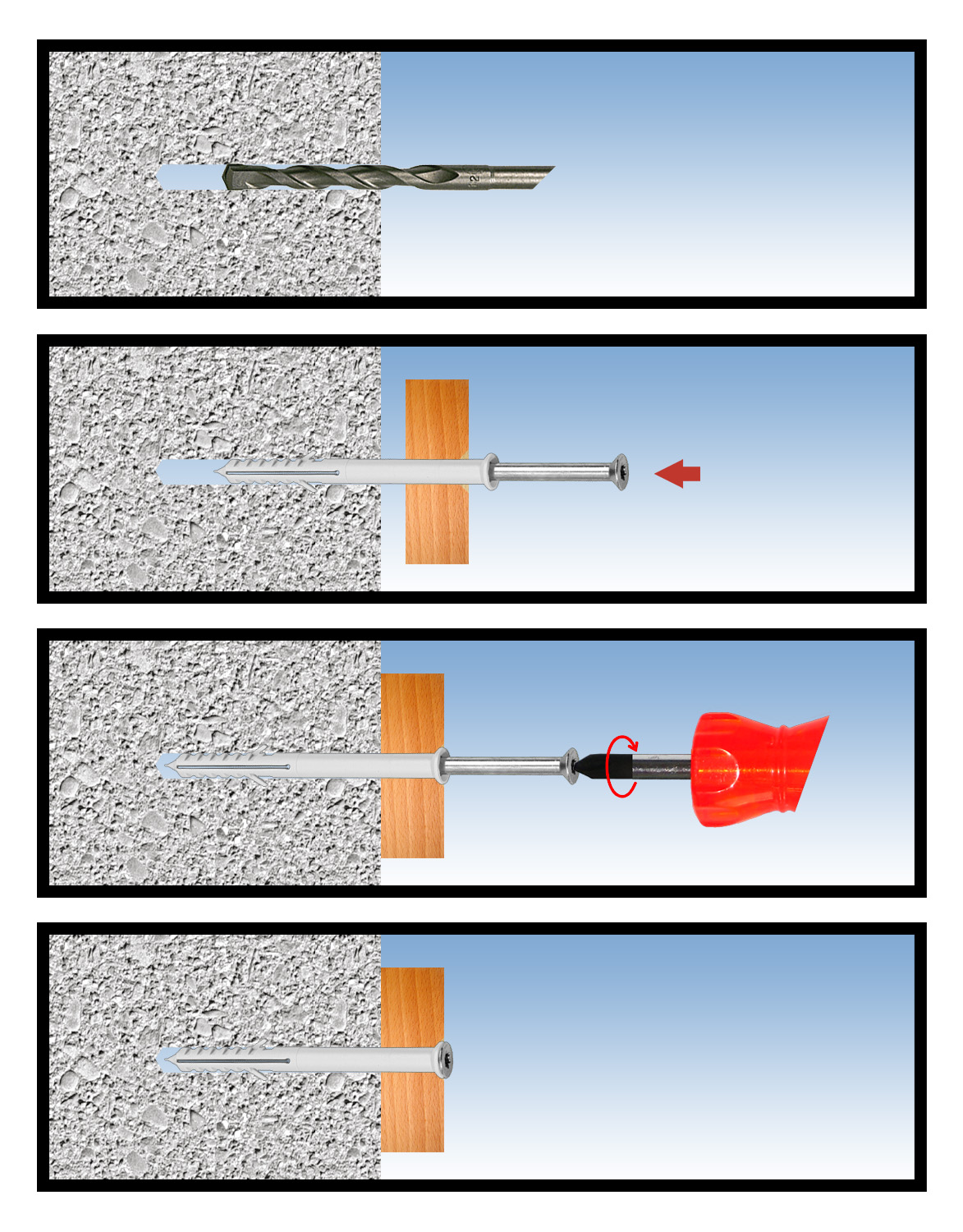 Function ND – Nail plug with pre-mounted screw nail